Volunteer Work Abroad by Robert - Monday, March 25, 2013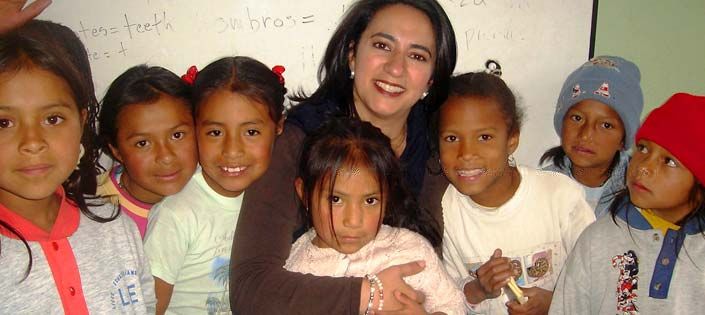 Helping Yourself While Helping Others
Every year, thousands of people sign up for volunteer programs to help others in need. However, it's not only the ones in need that gain from this experience; the volunteers themselves also benefit enormously from their participation. There are several good reasons why people donate their time, talent, experience and heart to the poor…
The first and most obvious reason is that most volunteers simply want to help others, who need help. They find something they are passionate about and want to do something good for others. Many volunteers think that they are very fortunate to live the way they do and try to give something back to society and make the world a little better.
Improving language skills
While working as a volunteer abroad, people can collect experience they will never forget for the rest of their lives. Interacting with people of a different culture, trying exotic food, spending time with new people from all around the world and speaking new languages are all unique experiences. Latin American countries are very popular destinations, as many Western people learn Spanish and can improve their language skills there. The best way to learn a language is by using it in real life situations, and when working abroad, people are surrounded by the language twenty-four hours a day, seven days a week. Moreover, as a volunteer working in a different part of the world, people can gain a deeper understanding of what state the world is in.
Lifelong friendships
During their time as volunteers, most people make lifelong friendships with others that have offered their time to help out in the community. There is an inherent bond of togetherness that comes from being sole outsiders in a foreign environment and working together in new and sometimes challenging situations. The social network volunteers build up during their months abroad can be very useful for future careers.
Researchers have proven that volunteering has a good effect on mind and body. Volunteering can provide a healthy boost to ones self-confidence, self-esteem, and life satisfaction. The feeling of being needed and doing something helpful prevents people from experiencing stress and depression.
Last but not least, working as a volunteer is simply fun. The work can be strenuous, dirty and very hard, but at the same time very rewarding. Nobody would participate in volunteer programs if it wasn't worth it.
Many people benefit from volunteering. While people in need are being helped, volunteers are collecting important skills and experiencing life in a totally different culture. The knowledge one can acquire, including social and language skills, can be very useful in future life. The quote of the American author Brooker T. Washington sums it up: "If you want to lift yourself up, lift up someone else."
---
Keywords: volunteer work,volunteer programs,volunteer abroad,volunteer work abroad,make a better world,become a volunteer,benefit from volunteering