Spain is the Set of Movies by Dilek - Thursday, February 28, 2013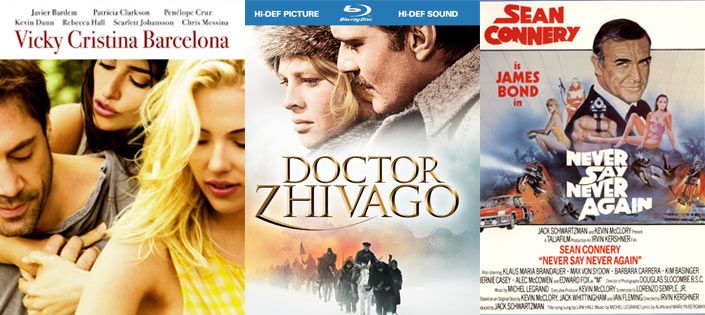 Have you ever noticed that many Hollywood movies were shot in Spain? Maybe one of your favorite scenes is back dropped by a Spanish plaza or steep Almeria hillsides, landscapes that may have tricked you into thinking you were seeing the Sahara Desert or some Wild West town.

Spain itself is a natural studio that needs no additional décor; each region offers a unique setting which makes it a perfect world for directors. When shooting Lawrence of Arabia, the crew got tired of hard working conditions in Jordan and so they moved to Almeria, Spain, where the dry landscape served as a convincing Sahara Desert background. The famous James Bond movie Never Say Never Again and Mad Max were also shot in the plateau of Almeria.

Anakin Skywalker and Padmé Amidala (played by Natalie Portman and Hayden Christensen) walked down appear in Seville's Plaza de España in Star Wars II: The Attack of the clones. Classics like Doctor Zhivago which won 5 Oscar awards including the Best Adapted Screenplay, took place in Soria, Salamanca and Segovia and Aldeadávila Dam has a significant role in the movie. Salamanca hosted numerous famous movies such as Ridley Scott's 1492: Conquest of Paradise which showed the New Cathedral, The University and the Church of Clerecia. Another recent movie called Vantage Point picked the amazing Plaza Mayor of Salamanca for its opening scene.

Charlton Heston brought to life one of the most famous historical figures El Cid in the movie of the same name, which was shot in several Spanish locations like Avila, Madrid, Manzanares El Real and Bemonte(Cuenca). Barcelona is one of the most beautiful cities in the world and a unique movie setting that has charmed many directors. The most well-known movies filmed here are Woody Allen's Vicky Christina Barcelona and Perfume adapted from Patrick Suskind's novel of the same name, which shows the Gothic Quarter of Barcelona.

Despite having passed through a period of heavy censorship and political propaganda, Spanish cinema has become known for dealing with controversial topics. Directors like Almodóvar and Amenabar have earned international recognition and many Spanish actors have deservedly found success in Hollywood. Spanish cinema is evolving gradually and studying cinema is a great opportunity to explore natural beauty of Spain and reflect it on the screen.
---
Keywords: Spanish cinema,Spanish culture,Spanish cities,Hollywood movies,Seville,Salamanca,Barcelona